Drinking Water Systems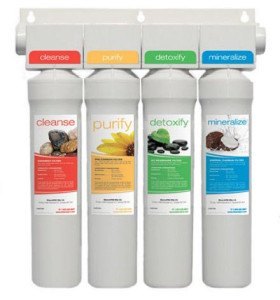 The MineralPRO Drinking Water System
MineralPRO drinking water systems make your tap water into safe healthy water,  H2O for Life. The process starts by first removing contaminants in a multistage filtration process. Once this is done, the now clean water is run through a proprietary mineralization cartridge that uses healthy natural materials to add the right minerals back to the water.
Minerals such as Calcium, Magnesium, Sodium and Potassium that were previously not present or removed as part of the water cleaning process are naturally absorbed into the water as it passes through the MineralPro mineralization process. This process adjusts the pH so that healthy alkaline drinking water is coming out your tap.
All our filtration systems remove and or significantly reduce drinking water contaminants such as
Industrial pollutants such as Lead, Arsenic and toxic metals
Added Chemicals such as Chlorine,Biological pathogens such as Bacteria, Viruses
Agricultural chemicals such as Pesticides and Fertilizers,
BPA and plastic microbeads
Hormone analogs and Pharmaceutical Drugs and Antibiotics
Benefits of Alkaline and Mineral Water
There is extensive and ongoing research that shows that water with the right Alkalinity and Mineral Balance can provide significant benefit to one's health. Drinking such water is believed to assist in the removal of toxins and has been shown in published studies to be associated with lower mortality rates from cancer and heart disease.
All of MineralPRO's drinking water systems are designed and built to ensure that you and your family receive the highest quality health drinking water for your everyday enjoyment and long term health.
MineralPRO offer a variety of healthy drinking water systems that are designed to be easy to install, maintain and use and most importantly to provide you with the right amount of filtration and mineralization.